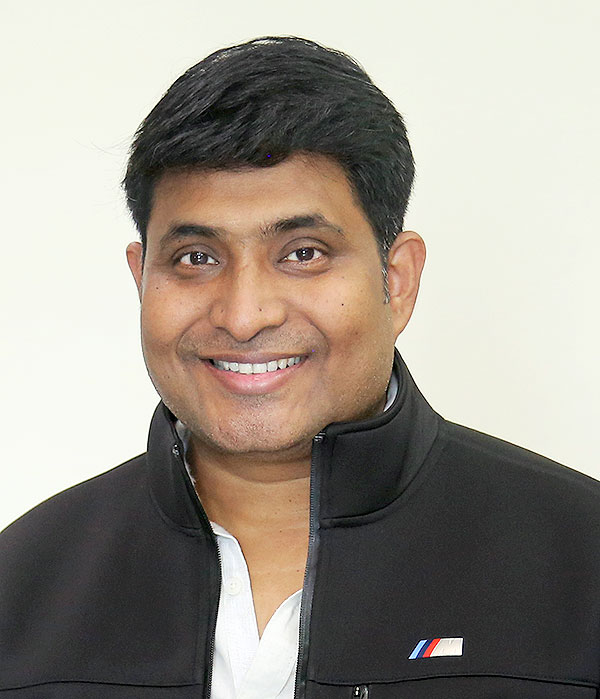 Dr. Satya Prakash Choudhary
Master of Mental Health ( New South Wales Institute of Psychiatry , Australia ),
Master of Health Management ( University of Wollongong , Australia ) ,
Bachelor of Dental Surgery ( Dr. M.G.R. Medical University, Chennai ),
Cert. Family therapy, Cert. Clinical Hypnotherapy ( Australia )
An alumnus of the New South Wales Institute of Psychiatry, University of Wollongong and Dr. M.G.R Medical University, Dr. Satya has the unique advantage of a rare multi-disciplinary background and experience. Extensive studies (about 25 years of ongoing training/studies) in the medical model (both conventional and alternative), Counseling/ Psychotherapy, Family & Organizational systems, Management and Spirituality, are complemented by practical experience gained through one-to-one interactions in both the clinical and corporate fields. Dr. Satya Prakash provides clinical supervision/training to other clinicians interested in non-pharmacological interventions for mental health and wellness.
A dual citizen of Australia and India , Dr. Satya Prakash has traveled widely and is sensitive to multi-cultural influences in his practice. His versatility and erudition often involves him in projects that require a multi-disciplinary approach spanning across different fields. Current interests include Mental Health, Leadership & Management, Human Potential, Spirituality, Art and Filmmaking.
Dr. Satya Prakash Choudhary's accomplishments include:
Authored/designed 16 software products in the fields of Classicism as well as Health care. During the development of the software Dr. Satya has led and managed teams of varying sizes (12 to 40 member teams) over a period of four years between Australia and India.
Rendered professional services to more than 10000 individuals in the form of counseling, coaching or group work.
Led workshops/groups for more than 2000 contact hours in the areas of counseling/therapy, self-development, coaching, and spirituality.
Past Editor (2001-2004) of the quarterly journal 'The Vedic Light' published by the ACVA, a non-profit Australian organization dedicated to Vedic studies.
Served as National President, ACVA , Australia (2001-2004).
Studied Yoga & Indigenous Indian Medicine at reputed institutes/ashrams in India; Qualified Yoga teacher ( Yogacharya ) with in-depth knowledge of the scientific applications of Yoga therapy; Studies in Yoga & Indian Medicine total over 1000 contact hours over a period of fourteen years (1989-2003).
The insights and practices of Yoga psychology (Vedantic, Buddhist, Trika and Patanjali systems) have been combined with Western psychology, Leadership and Management studies, to create some of the most powerful tools for self-awareness, transformation and engagement with life. These remain among Dr. Satya's most acclaimed original contributions as a multi-disciplinary expert. He has simplified and systematized the best of the evidence-based practices of eastern and western psychologies under the 'Agni-Someeyam © model that he has evolved using the twofold 'RBP-PBR' approach of the scientist-practitioner (RBP stands for "research-based practice" and PBR for "practice-based research"). Two comprehensive inventories (long and short versions) have been developed by Dr. Satya for assessment and coaching purposes using the 'Agni-Someeyam' © model of 'cognitive-emotional-behavioural' style regulation (at both intrapersonal and interpersonal levels).
Over the years Dr. Satya has conducted many workshops and training classes integrating Yoga Psychology with other individual and systemic therapies. One of the high points is an advanced course that Dr. Satya Prakash Choudhary has envisioned, developed and taught- the "Advanced Certificate in Integral Yoga" held in Sydney , Australia from Stember 2005 to August 2006 . This advanced certificate course takes a multidisciplinary approach blending traditional Yoga psychology theory and skills with Cognitive Behavioral therapy, Family Systems theory & Family-of-Origin Coaching, Personology, Developmental Psychology and Positive Psychology. This course is the equivalent of 300 hours of intermediate to advanced learning and was delivered through a combination of sixteen full day weekend intensives comprising of lectures, practice sessions, videos and discussions. The course format also included a Self-study component comprising of readings, maintaining a reflective log and submitting a Reflective essay.
Dr. Satya also runs a successful dental practice in Hyderabad which he built in partnership with his wife Dr.Harshapriya, a skilled and compassionate dental surgeon herself.
Dr. Satya Prakash Choudhary

Artist, Writer, Composer, Filmmaker, Psychotherapist, Dental Surgeon
Dr. Satya Prakash Choudhary has a multidisciplinary background that combines Dental Surgery, Clinical Psychology and Classical Studies. Seeking creative endeavors alongside academics, he wrote, directed and acted in many plays throughout his student days. Alongside a successful clinical career he kept his creative interests alive over the years by enrolling in various courses and groups at places such as the Australian Film Television Radio School, Central St. Martins and University of Cambridge Institute of Continuing Education. His personal quest for self-expression has taken him from writing, painting and composing music to finally culminating in filmmaking. The Last Koan is Satya's debut feature film. Satya has also done the Sound Design and Music for the film.